---
Why we are so different? Because we supply part rolls of Membrane and part boxes of plugs!
You can buy Waterproofing Membranes by the metre - click here to see typical prices of Membrane Kits.
Have a look at some real jobs - click here for Case Studies
Read an Article about Membrane Methods - click here
---
ABOUT OUR WATERPROOF WALL AND FLOOR MEMBRANE KITS
We assemble your chosen lengths of Membrane, quantities of plugs and seals, tape and mastic, to provide you with exactly the Kit you need for your Project - no need to waste money on complete rolls or full boxes - just give us the wall and floor dimensions and we will give you the most competitive price for your exact needs.
---
Site Index
Typical Membrane Kit Prices - Damp Fix Kits made to measure your room
Damp Proofing using Membranes - quick summary
DIY Damp Proofing - walls and floors - how to choose a type of coating or membrane
How to install Membranes - step by step method for main types
Wet Room and Shower waterproofing
External Foundation Waterproofing - Geotextile membrane
Waterproofing walls and floors
Installation Tips for Mesh Membranes
Installation Tips for Kontract Membranes
Stone Walls - how to install without Plugs
Typical Membrane Kit Prices - Damp Fix Kits made to measure your room
FAQs - frequently asked questions
---
Case Studies
Basement Conversion - step by step project to convert
Lining a small Cellar - Andrew does it himself, see his photos
---
Diagnosis and Analysis of damp and water leak problems
Testing for water leaks - checklist
Damp ground floor walls - diagnosis of damp walls
Surveying for Dampness Shop - DIY tools
---
SHOPS
---
Wall Lining Damp Proof Membrane Kit - new, easy to install, plastic membrane, so no rendering, no mess, no smell and easy DIY fix with bang-in plastic plugs, covered in mesh ready to plaster.
Click here to see the fixing process for the Mesh and Non-Mesh versions.
Click here to see an actual installation in Non-Mesh Membrane using battens and plasterboard, including some curved surfaces
As used by the professionals - not all damp proofing membranes are made to these high standards, so beware of cheap imitations.
click here for a check list if you want to diagnose your damp
prices of some frequently purchased kit sizes - Damp Fix Kits made to measure your room or damp patch
---
Fit a Wall Membrane - Kontract or Mesh Membrane - drill a hole, bang in plug.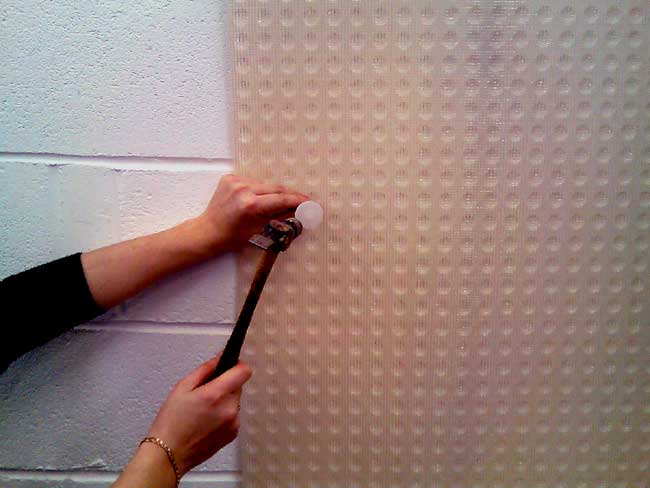 Waterproof Membrane showing the mesh side, ready for direct plastering with normal 'bonding' plaster.
As used by the Trade - Wall Lining Mesh Membrane is easy to fix on any type of masonry
1. Kit includes membrane - 2 metres or 1 metre wide x your specified length
2. Comes with plastic hammer-in plugs and waterproof seals, ready to use
3. No special tools required, just drill 8mm holes.
4. Quick to install - just drill & bang-in the plugs
5. Ready to plaster - no risk of damp ever again, use modern paints and papers on your plaster with no risk
6. Effective - as used by the Professionals for basements and cellars
prices of some frequently purchased kit sizes - Damp Fix Kits made to measure your room
---
Lay a floor Membrane - Kontract or Slimline Floorseal - roll out, fix joint tape.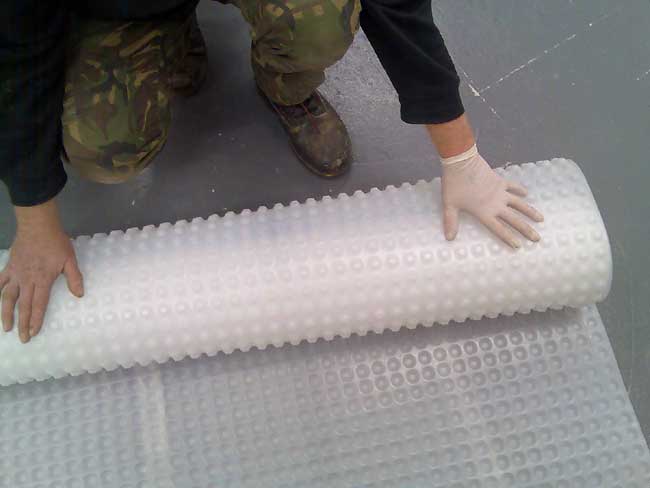 Waterproof Membrane with no mesh, ready for direct flooring - concrete screed or wooden floor using chipboard flooring. As used by the Trade: Membrane without Mesh can be used on floors or walls. On walls battens are fixed to the plug heads with screws, for lining with plasterboard, with or without Insulation.
---
Damp Proof Membrane for Damp Houses
Waterproof membranes, made of studded membrane polyethylene, are ideal for lining damp walls and damp floors. Cellar conversions can also use this technique as a form of tanking, although traditional cement based tanking still has its place. Waterproof membrane used in cellar tanking is ideal for DIY Damp Proofing because it is so easy to fix and seal. The outcome is a dry basement conversion with rooms that can be decorated and inhabited as if above ground. Tanking membrane is also sometimes referred to as an air gap membrane because it is studded or dimpled. The studs touch the wall and create an air space This is a good insulator, reducing the risk of Condensation.
membrane materials - plastic dimpled sheet on a roll. Easy to cut and trim with scissors or knife.
sealing and fixing - special Mastic Rope and Tape, with plugs to suit both wall fixing methods.
plastering - plaster straight onto the welded-on mesh with ordinary Bonding lightweight plaster
floor option - for damp floors, or basements use our membrane without the mesh - just lay chipboard flooring or screed directly onto the waterproof membrane.
---
Quick DIY Master Class in Dampness and Condensation - become your own Expert in 1 hour!
Buy our "Dampness in Buildings" reprinted book by the great expert Graham Coleman. A great read, short and to the point.
Click here to buy the reprint.
---
---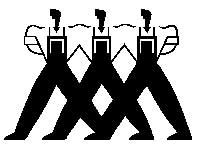 Property Repair Systems
T: 01626 872886
E: help@propertyrepairsystems.co.uk
---
Use any of our Shopping Pages to place goods in your Shopping Cart - they all use the same Shopping Cart system.

Click to view your Shopping Cart
or continue shopping by clicking on our Shop below.
---
Other Property Repair Systems Sites:
www.epoxy-info.co.uk - epoxy resins for repairing wood, concrete, brick and stone
www.fire-door-paint.co.uk - upgrade doors to 30 minutes fire resistance
www.joist-repair.co.uk - how to quickly repair joists and beams of any size
www.propertyrepairsystems.co.uk - our Home Site
www.steel-fire-paint.co.uk - treat steel with Intumescent Paint to provide fire protection
www.timber.org.uk - systems of repair, with step by step methods
www.timber-repair.co.uk - how to repair timber beams
---
Site written by: David Moore
David Moore, B.A. (Hons.), C.T.I.S., C.R.D.S. Technical Author
Google+
---