---
Basement Conversion carried out by DIY enthusiast Andrew Reeves - Bredon House Hotel - cellars converted in one weekend DIY by a father and two sons.
Real life fitting photos in a cellar showing a Basement Conversion using the fastest Membrane and Batten method.

Click here to see the Prices of Dampfix Kits
---
The Cellar/Basement Project - in Malvern - basement conversion under an Hotel - seal walls and floors
Here is a project that Kathy, my wife, and I actually carried out with a friend, with the help of his family and in exchange for a nice weekend away in Malvern.
Andrew and Sue had two barrel vaulted cellars or basements under the carpark of their small Hotel (Bredon House) and wanted to create a Utility Room in one and an Office for Andrew in the other. The second Cellar extended into a small room which also needed lining.
Andrew used 'battening' timbers fixed with screws into the plug heads to then line with plasterboard. He also used Membrane on the floors which were then covered in sheets of chipboard.
---
Andrew fitting plugs with silicone seals on the necks to the holes drilled by his son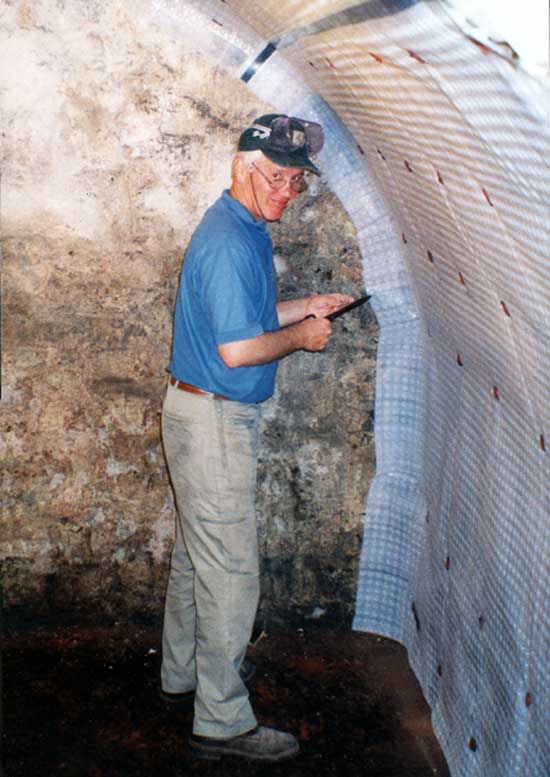 Sons one and two drilling the end wall - note that you can see
enough through the material to pick the best places to drill.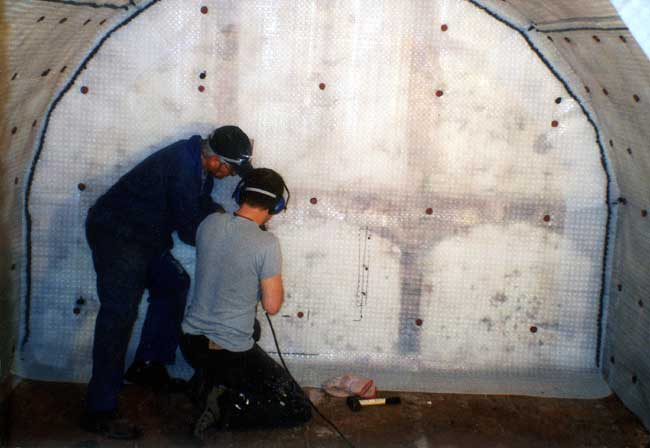 Fitting the plasterboard to the curved sides - insulation can be
fitted between the battens.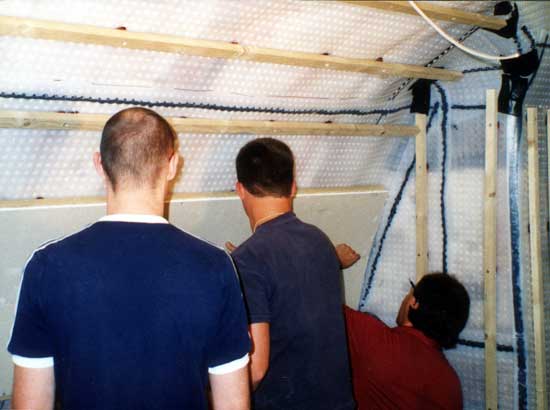 The curved plasterboard roof taking shape. The troops retired for
tea and biscuits frequently.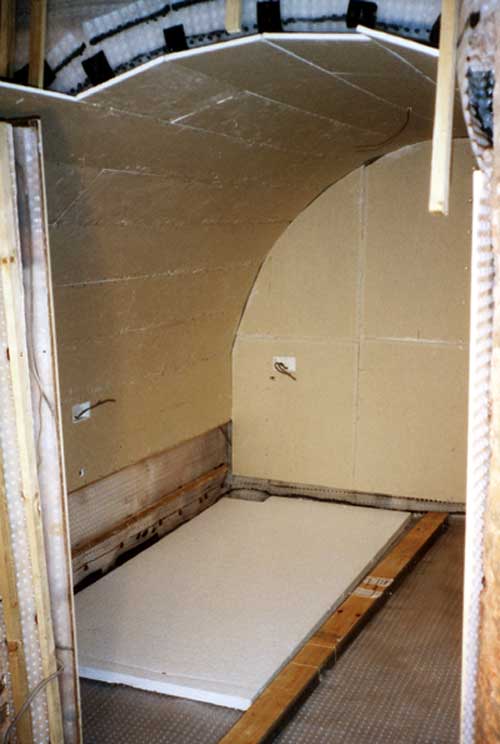 The Membrane continues out into the room beyond the cellar,
where the end wall is below ground. Note the solid insulation.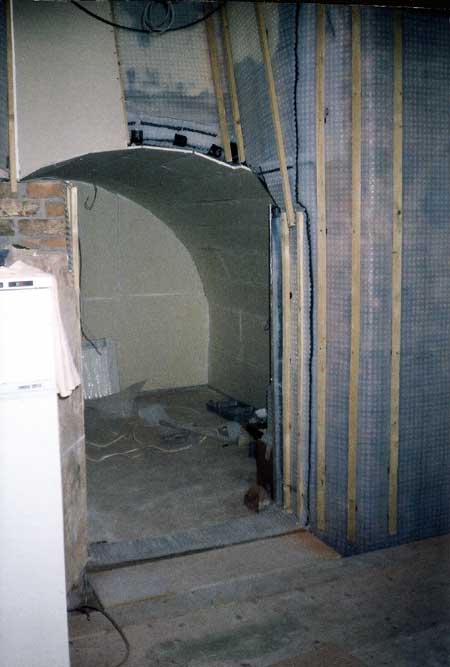 One of the finished cellars - the floor is chipboard in this one,
concrete screed in the other (a Utility Room).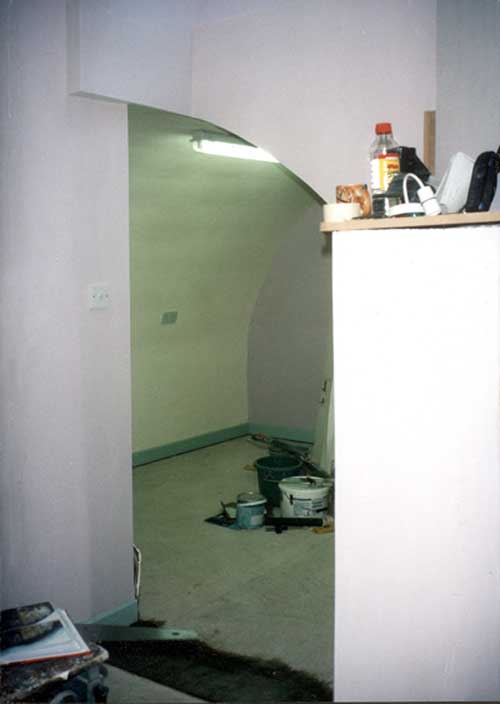 These Cellars have functioning drains, so there was no need
to fit a sump and pump system.
---
Products used in this Project:
Kontract membrane material - plastic dimpled sheet on a roll. Easy to cut and trim.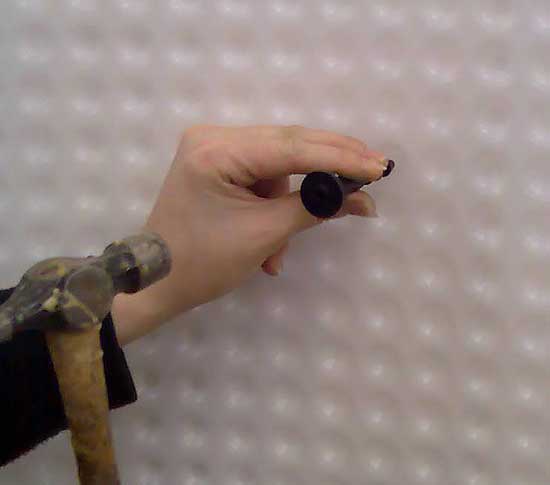 Black Plugs - holes moulded ready for No.10 self tapping screws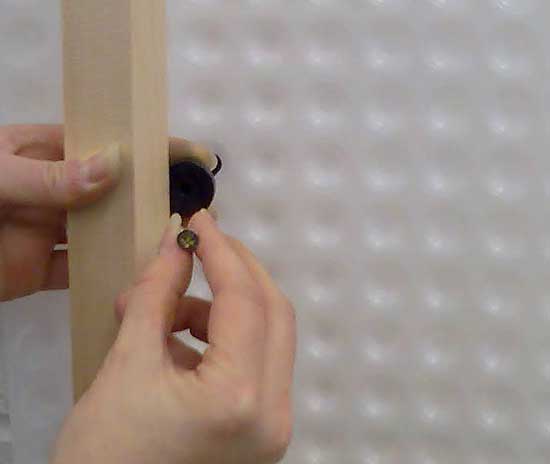 Plug Seals - slip over plugs to seal faces to membrane
Double Sided Tape - to join membrane, onto overlaps (about 75mm - 3 rows of dimples)
Floor option - just lay chipboard flooring or screed directly onto the waterproof membrane
Plastering - plaster with ordinary Bonding lightweight plaster
Click to visit the Membrane Shop for prices and ordering.
---
Home | Damp | Plastering | Membrane | Damp Meters | Anti-Mould Additives | Privacy Policy | Returns Policy | Contact
---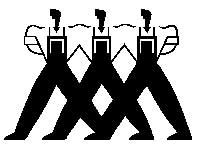 Property Repair Systems
T: 01626 872886
E: help@propertyrepairsystems.co.uk
---
Use any of our Shopping Pages to place goods in your Shopping Cart - they all use the same Shopping Cart system.

Click to view your Shopping Cart
or continue shopping by clicking on our Shop below.
---
Other Property Repair Systems Sites:
www.boron.org.uk - how to use Boron based insecticides/fungicides to treat timber rots and insect attack
www.dampness-info.co.uk - how to treat penetrating dampness in walls and plaster
www.deck-treatment.co.uk - how to treat patio decks and yacht decks
www.dryrot.biz - how to kill Dry Rot in buildings
www.epoxy-info.co.uk - epoxy resins for repairing wood, concrete, brick and stone
www.fire-door-paint.co.uk - upgrade doors to 30 minutes fire resistance
www.joist-repair.co.uk - how to quickly repair joists and beams of any size
www.propertyrepairsystems.co.uk - our Home Site
www.steel-fire-paint.co.uk - treat steel with Intumescent Paint to provide fire protection
www.timber.org.uk - systems of repair, with step by step methods
www.timber-repair.co.uk - how to repair timber beams
www.woodworm-info.co.uk - how to kill and prevent woodworm and death watch beetle
www.woodworm-expert-advice-forum.org.uk - all your questions and our answers about woodworm treatment DIY
---
Site written by: David Moore
David Moore, B.A. (Hons.), C.T.I.S., C.R.D.S. Technical Author
Google+
---