---
How to fit Membranes to damp walls - Order and Free Technical Help - 01626 872886 - discuss your building problem with a Qualified Dampness Expert (C.R.D.S.)
Why are we so different to other Suppliers?
- because we will make a Kit just for you
- membrane by the metre, part boxes of plugs and seals
- free telephone help from experts
---
1. Wall Lining Kit - with welded on string Mesh - for direct plastering or 'dab' fixing of plasterboard. Easy to install, plastic membrane - no rendering, no mess, no smell - easy DIY fix with bang-in plastic plugs, covered in mesh ready to plaster with a 'bonding' plaster, or just plasterboard onto adhesive dabs.

MESH MEMBRANE - for plastering and plasterboard on adhesive 'dabs'

Drill through the dimples with a masonry bit - 8mm diameter at 250mm centres, for plastering (25 plugs per square metre) or allow 15 plugs per square metre for plasterboard fixing on adhesive 'dabs' - position around the edges of the sheet and randomly for each 'dab' position.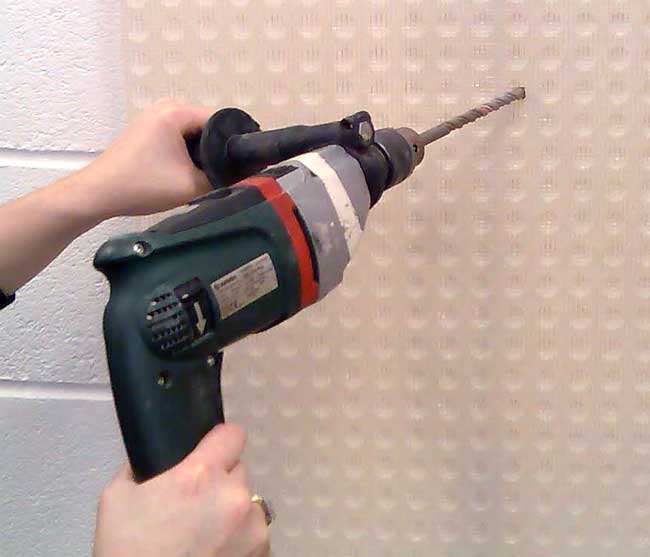 The green plug has 'fir tree' serration's,
to tightly grip the inside of the hole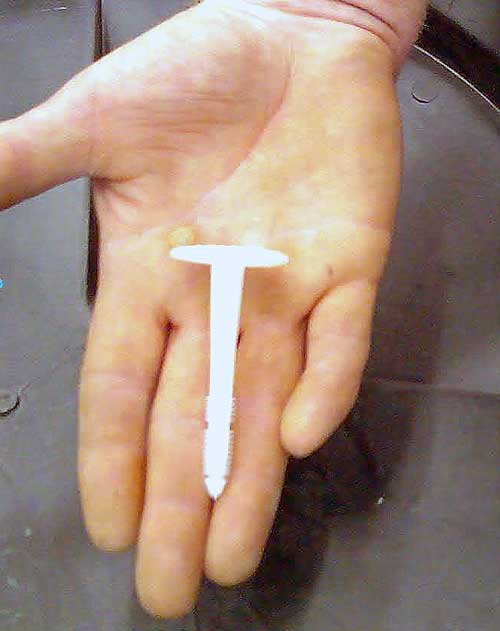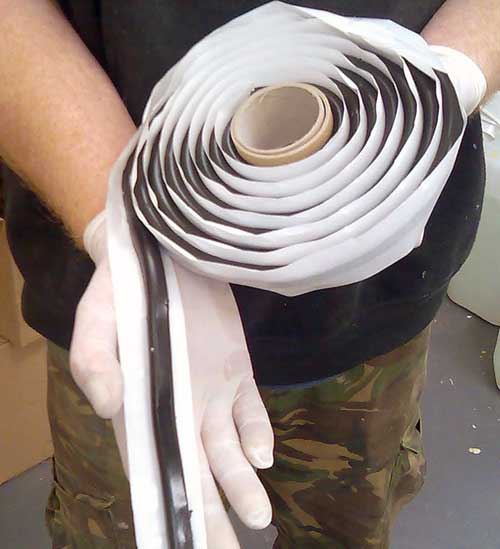 Fit the seal washer or use Mastic Rope, provided in the kit to seal behind the head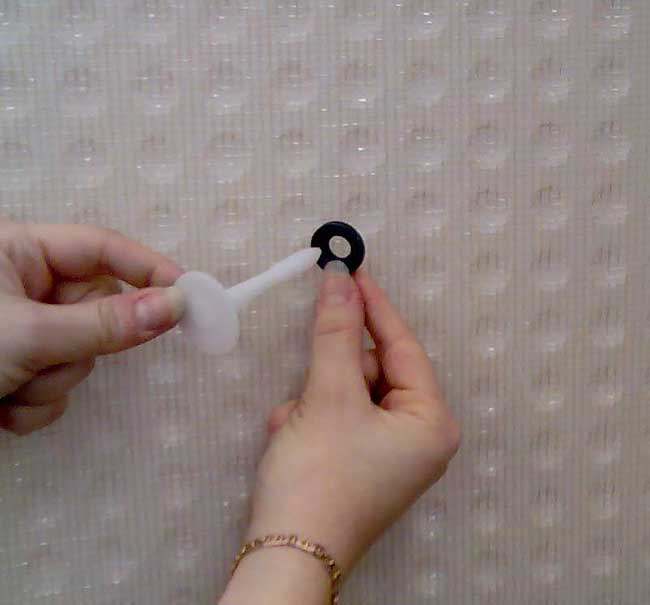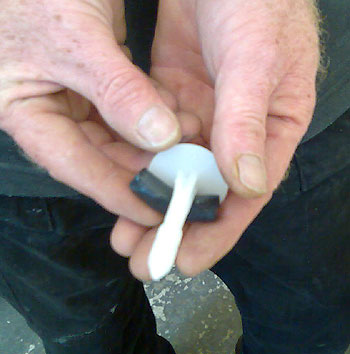 Drive the plug home with a hammer until
the head is nicely flush,
without buckling the membrane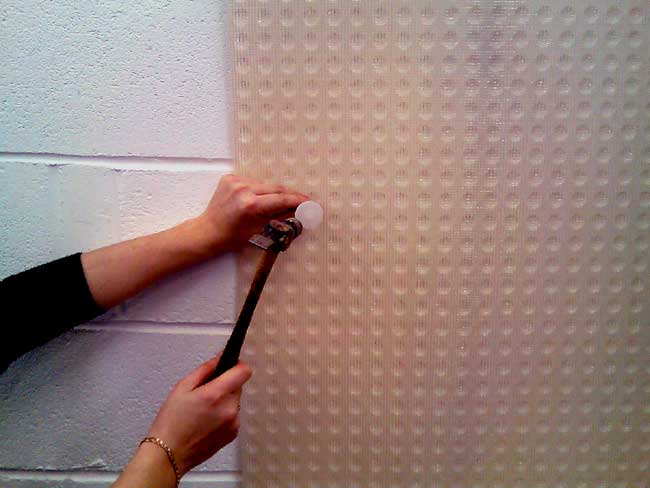 Waterproof Membrane showing the mesh side,
ready for direct plastering with normal 'bonding' plaster.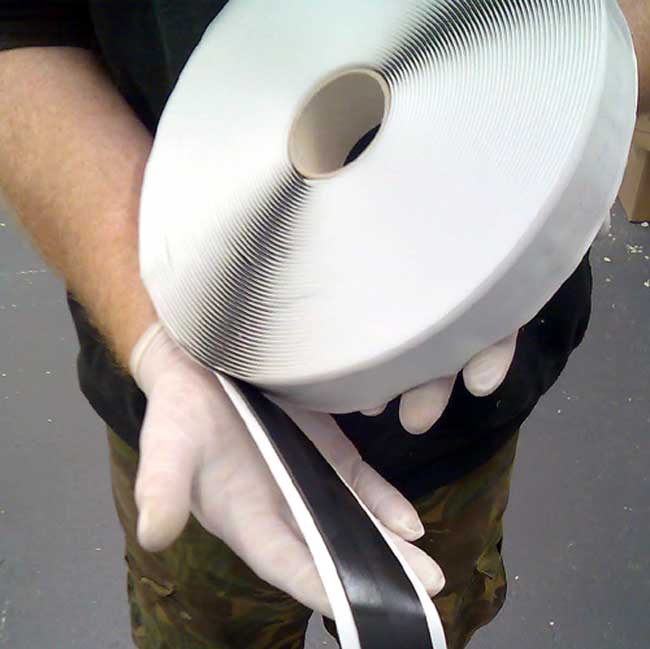 Tape, double sided, for joining sheets of membrane
---
2. Wall Lining Kit - No Mesh - for 'battening' with timber fixed with screws into the plug heads, to then line with plasterboard. Easy to install, plastic membrane - no rendering, no mess, no smell - easy DIY fix with bang-in plastic plugs. Insulation can be fixed between the battens.

KONTRACT MEMBRANE - for wooden battens and plasterboard, with insulation in between (optional)

Kontract Membrane, for Battens (wooden)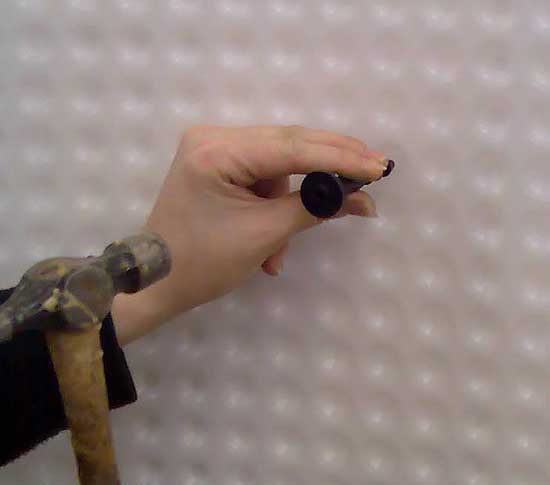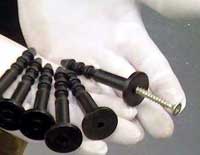 Wall and floor Membrane - no Mesh - first, drill a 10mm diameter hole.
- for fixing battens to plug heads.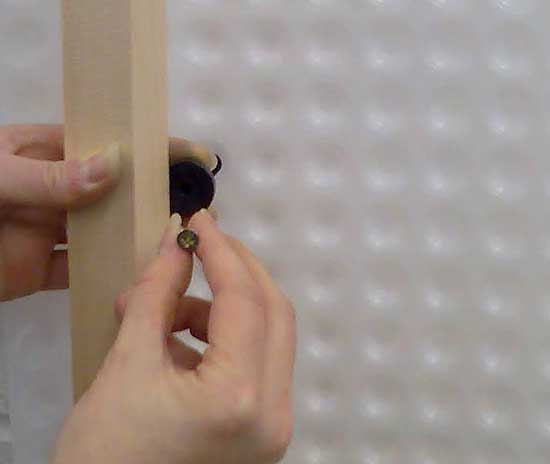 Plugs have holes for screw fixing (No.12 self self tapping screw)
battens - the holes are moulded into the plug head.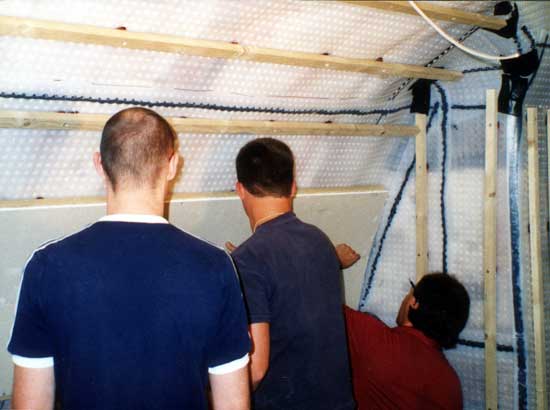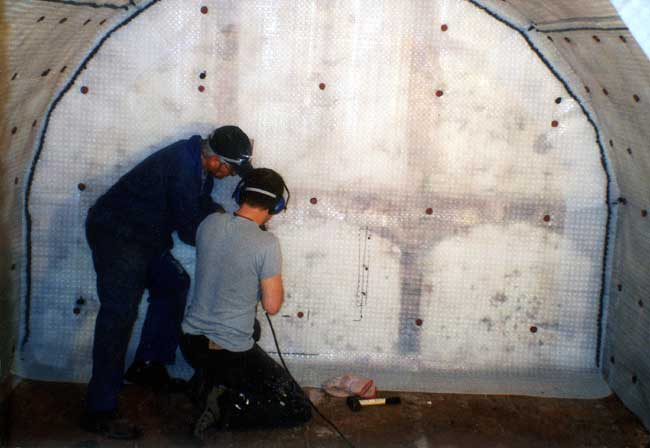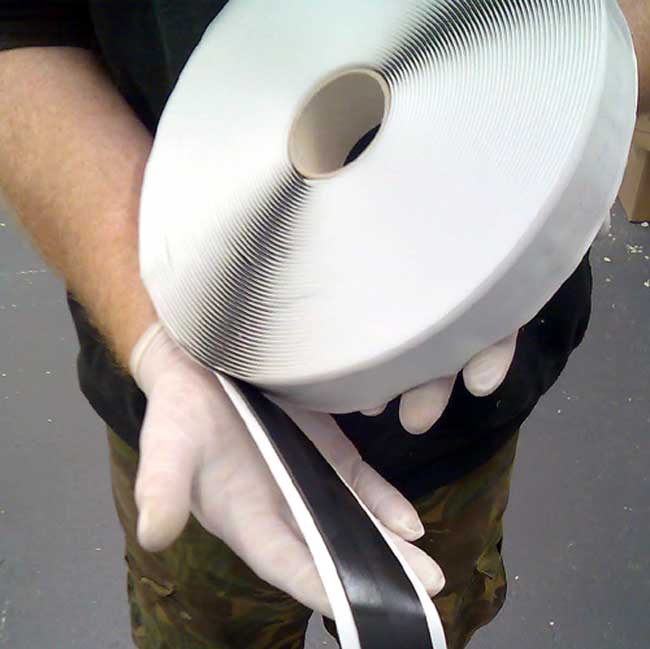 Tape, double sided, for joining sheets of membrane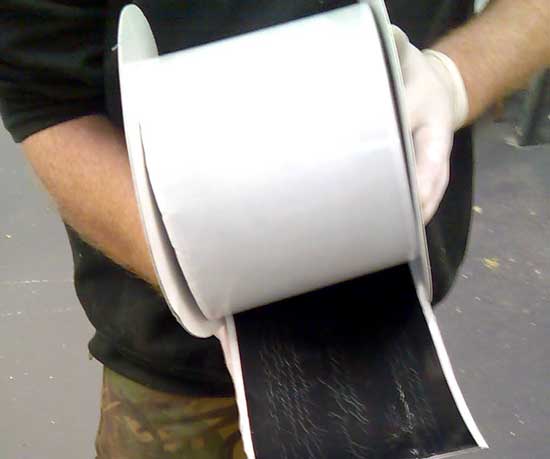 Corner tape, for awkward joints
and sealing junctions (single sided)
---
3. Floor Lining Kit - No Mesh - for direct laying. No plugs or fixings required. Uses Mastic Tape of Mastic Rope to permanently join sheets.

KONTRACT MEMBRANE - for floors, join with double sided tape.

Flooring membrane being rolled out.

Seal the overlapping joints with the Mastic Tape or Mastic Rope.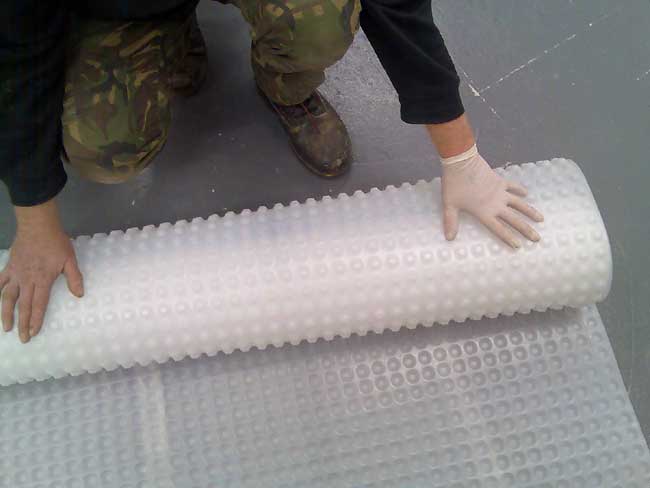 Waterproof Membrane with no mesh, ready for direct flooring
- concrete screed or wooden floor using chipboard flooring.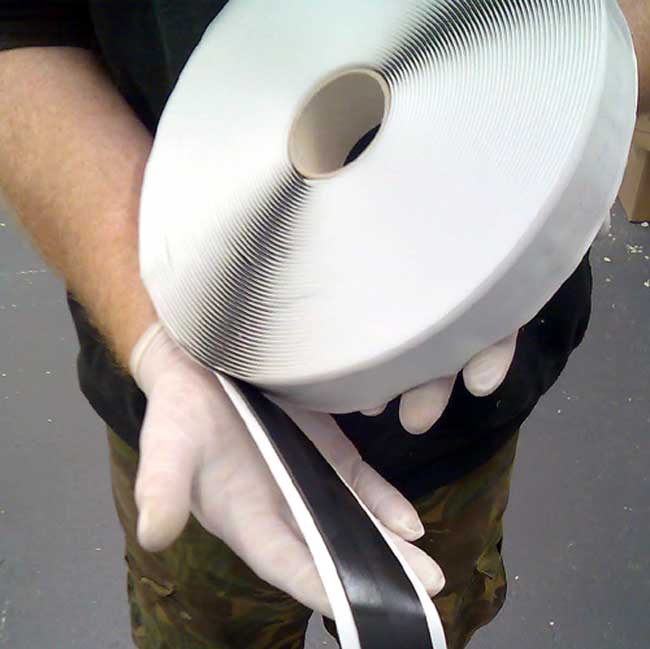 Tape for joints, double sided - overlap the sheets by three rows of dimples.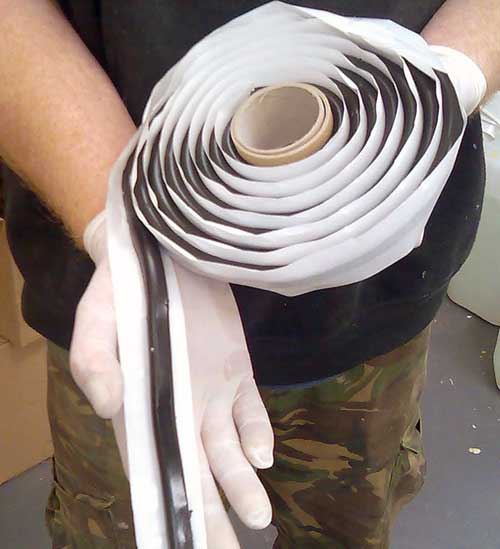 Mastic Rope - sticky all round, for joints,
dimple to dimple and for plug head seals.
---
As used by the professionals - not all damp proofing membranes are made to these high standards - beware of cheap imitations.
Click here for a check list if you want to diagnose your damp
Click here to see an actual installation in Non-Mesh Membrane using battens and plasterboard, including some curved surfaces.
membrane material - plastic dimpled sheet on a roll, easy to cut and trim.
plastering - plaster straight onto the welded-on mesh with ordinary Bonding lightweight plaster
floor option - for damp floors, or basements use our membrane without the mesh - just lay chipboard flooring or screed directly onto the waterproof membrane
---
As used by the Trade - Wall Lining Mesh Membrane is easy to fix on any type of drillable, sound masonry
1. Wall Mesh Membrane Kit includes membrane - 2 metres wide x your specified length.
(Non-Mesh Membrane available is various roll lengths 2 metres wide, plugs, tape and rope to suit).
2. Comes with plastic hammer-in plugs and waterproof seals, ready to use
3. No special tools required, just drill 8mm holes.
4. Quick to install - just drill & bang-in the plugs
5. Ready to plaster - no risk of damp ever again, use modern paints and papers on your plaster with no risk
6. Effective - fully BBA tested and approved
---
Membrane | Privacy Policy | Returns Policy | Contact
---
Property Repair Systems

T: 01626 872886
---
Use any of our Shopping Pages to place goods in your Shopping Cart - they all use the same Shopping Cart system.

Click to view your Shopping Cart
or continue shopping by clicking on our Membrane Shop link below.
---
Other Property Repair Systems Sites:
www.epoxy-info.co.uk - epoxy resins for repairing wood, concrete, brick and stone
www.fire-door-paint.co.uk - upgrade doors to 30 minutes fire resistance
www.joist-repair.co.uk - how to quickly repair joists and beams of any size
www.propertyrepairsystems.co.uk - our Home Site
www.steel-fire-paint.co.uk - treat steel with Intumescent Paint to provide fire protection
www.timber.org.uk - systems of repair, with step by step methods
www.timber-repair.co.uk - how to repair timber beams
---
Site written by: David Moore
David Moore, B.A. (Hons.), C.T.I.S., C.R.D.S. Technical Author
Google+
---