How to kill black mold permanently - 5 year guarantee
Mold treatment - Mould Surface Cleanser and Antimold Paint Additive.
1. Remove dirt and grease first with a hot wash containing Sugar Soap
2. Apply Surface Cleanser to the wall with a sponge - allow to dry, do not rinse off.
3. Add the AntiMould Paint Additive to your chosen paint and apply as usual.
4. Use our Hygrometer to monitor how much moisture there is in the air in your house - adjust your heating and ventilation to keep the reading between 55% and 65% for comfortable, condensation free living.
Click here to see the Prices or Buy Mould Products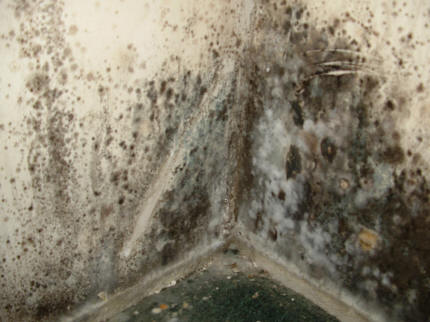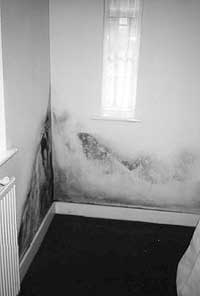 Salts and Mould on a wall suffering from condensation and penetrating dampness
---
Quick DIY Master Class in Dampness and Condensation - become your own Expert in 1 hour! Buy our "Dampness in Buildings" reprinted book by the great expert Graham Coleman. A great read, short and to the point.
Click here to buy the reprint.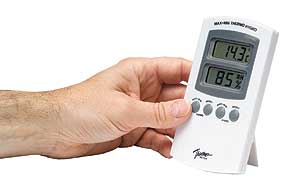 Use a Hygrometer to check how damp the air is in your house
Click here to see the Prices or Buy Mould Products
---
Complete Mold Treatment Kit
1 x Surface Cleanser (makes 5 litres of cleaner)
2 x Paint Additives (enough for 5 litres of paint)
or buy the products separately.
Data Sheet for Surface Cleanser - click here
Data Sheet for AntiMould Paint Additive - click here
Click here to see the Prices or Buy Mould Products
---
How to test for condensation
Test the walls of the building with our Condensation Test Kit and look for evidence of mold - usually 'black spot' - this indicates that you have Condensation forming on the coldest surfaces in the room. Unless you can increase ventilation and heating, consider using our Anti-Mold Paint Additive or Anti-Mould Emulsion Paint - guaranteed for 5 years!
If necessary, treat all plaster with the anti-mold treatment supplied with the paint and then redecorate.
Measure the Relative Humidity - use our Hygrometer to monitor the conditions in each affected room and use the Memory function to check the exact conditions overnight, the time when temperature falls and condensation is most likely. This meter helps you to control the conditions that cause condensation and to monitor the use of your heating, ventilation and dehumidification.
Available in standard and large display versions
.
---
Damp | Plastering | Membrane | Damp Meters | Privacy Policy | Returns Policy | Contact
---
Property Repair Systems

T: 01626 331351 F: 01626 331143
---
Use any of our Shopping Pages to place goods in your Shopping Cart - they all use the same Shopping Cart system.

Click to view your Shopping Cart
or continue shopping by clicking on our Membrane Shop link below.
---
Other Property Repair Systems Sites:
www.boron.org.uk - how to use Boron based insecticides/fungicides to treat timber rots and insect attack
www.dampness-info.co.uk - how to treat penetrating dampness in walls and plaster
www.deck-treatment.co.uk - how to treat patio decks and yacht decks
www.dryrot.biz - how to kill Dry Rot in buildings
www.epoxy-info.co.uk - epoxy resins for repairing wood, concrete, brick and stone
www.fire-door-paint.co.uk - upgrade doors to 30 minutes fire resistance
www.joist-repair.co.uk - how to quickly repair joists and beams of any size
www.propertyrepairsystems.co.uk - our Home Site
www.steel-fire-paint.co.uk - treat steel with Intumescent Paint to provide fire protection
www.timber.org.uk - systems of repair, with step by step methods
www.timber-repair.co.uk - how to repair timber beams
www.woodworm-info.co.uk - how to kill and prevent woodworm and death watch beetle
www.woodworm-expert-advice-forum.org.uk - all your questions and our answers about woodworm treatment DIY
---
Site written by: David Moore
David Moore, B.A. (Hons.), C.T.I.S., C.R.D.S. Technical Author
Google+
---